When we work with clients that are new to digital, we always recommend they create a website or, if necessary, upgrade their existing website to meet current best practices. Why do we do this?
Because, according to Forrester, 95% of people use search to discover or find out about products. And 94% of people use a search channel during consideration and purchase stages of the purchasing journey. If you don't have a website, it's unlikely that you'll be found via search.
Search is changing though. Actually, it's already changed.
Based on research published by Kleiner Perkins, 49% of product research begins on Amazon.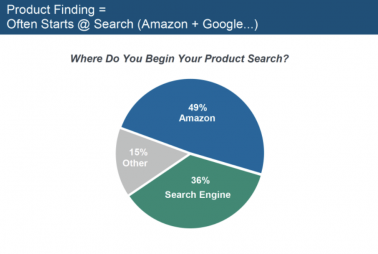 It only stands to reason that Amazon and Google will hold their positions as leaders in this space. Over the last year, we've seen rapid growth in voice search and home smart speaker systems (i.e. Amazon's Alexa / Echo and Google Home). It's estimated that Amazon eCommerce shipped 2.5 million Echo units in Q1. With these products residing in people's homes, they're going to be used for a variety of tasks, including product research and purchasing.
Similar to how we recommend businesses develop websites that can be found within search engines, it's officially time for us to recommend that all businesses selling products directly to consumers to develop a presence on Amazon.   
At Concept Co., we're recommending a staged approach for our clients who are new to Amazon.
Open up an account and get your inventory on Amazon. If you can't add it all to Amazon, then consider just adding your top-selling products.

Build out your product pages with enhanced branded content.

Test out Amazon eCommerce advertising to lift your products in the search results.

Build out an Amazon store to give Amazon shoppers a complete branded experience.
If you have an interest in getting your business on Amazon, reach out to us!